Article
The Secret to Radiant Skin: Natural Skincare Body Scrub for a Healthy Body!

If you've ever wondered why your skin isn't as smooth and natural as it should be despite regular care, trust us, you're not alone. Perhaps you've heard of a magic solution that a new brand of body lotion promises and you've wondered why you haven't seen the effects yet.
Okay, so here's the truth. Despite all the scientific advancement in skincare solutions, most skincare products contain chemicals and fragrances that often end up causing a harsh reaction from your skin. If your skin doesn't like these chemicals, the negative effects can negate any benefits to your skin that would otherwise come from the lotions.
So it's no surprise at all that today's trend in skincare is all about being 100% natural! If you want your skin to truly be healthy and smooth, keep away the chemicals and bring on the essential oils, butters, and waxes that your skin will love.
Let's dive right into the remarkable world of The Spiritual Affinity's body scrubs and how they can give you the skin you've always dreamed about!
A Tropical Delight: Glow-Up Body Scrub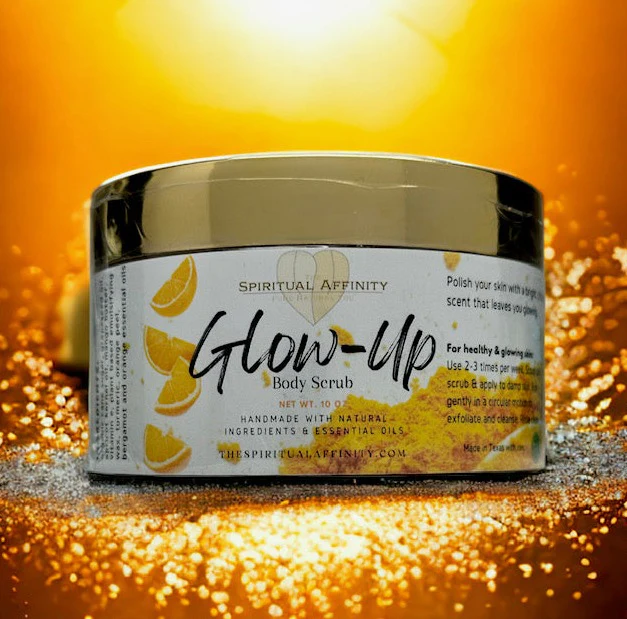 Imagine yourself bathing on a serene, tropical beach, with perfect weather, clean air, and the smell of the sea. A perfect soothing treatment for the mind and body, and for your skin, of course!
From the goodness of turmeric and orange comes The Spiritual Affinity's Glow-Up body scrub. And you'll notice it as soon as you open the jar and take a whiff! The amazing scent and touch of Glow-Up comes straight from the tropics and will give your skin a true natural makeover!
If you like cooking, you might recognize turmeric from the kitchen, but did you also know that it's the perfect natural exfoliate and disinfectant? Yep, turmeric has been used for centuries1 all over the world to treat skin conditions and heal scratches, inflammations, and burns on the skin. From Cleopatra to Marco Polo, many of the greatest in history have relied on turmeric, so we can be fairly safe in saying it should probably work for you too!
Turmeric is also known for its anti-hyperpigmentation properties, which add color to your skin and brighten some of those annoying dark patches. Just wait until you see how beautiful your skin will look when the colors all just come out right.
The second essential ingredient in Glow-Up is orange peel and orange oil. The citrus fruit contains anti-inflammatory properties that help soothe and soften skin. Glow-Up then combines other ingredients to make the perfect match for your skin, including organic cane sugar, grapeseed oil, apricot oil, mango butter, vitamin E, plant-based emulsifying wax.
Unleash Your Lavender Glow: Unbothered Body Scrub


Now imagine yourself walking through a lavender field, with the sun shining brightly and a cool wind blowing the scent of flowers into your nose. Indeed, the smell of lavender is among the most soothing in the world, and just wait to see what it can do for your skin! The Spiritual Affinity's Unbothered body scrub unleashes the mesmerizing powers of lavender, bringing a new sense of life to your skin.
Considered the "herb of love"2 from ancient Roman times all the Middle Ages, the goodness that lavender can do for your body has long been a very open secret. If you want to say goodbye to skin problems like acne, eczema, and wrinkles, then this might just be what you need!
And lavender isn't just great for your skin! The herb of love has also been an essential ingredient in spa treatments for centuries for its ability to calm anxiety and relax the mind. And when the mind is calm, the body is usually relaxed as well, allowing skin cells to replenish naturally as they should to create smooth, radiant skin.
Beyond lavender, The Spiritual Affinity packs a delightful mix of organic cane sugar, grapeseed oil, calendula and chamomile-infused olive oil, mango butter, vitamin e, emulsifying wax, lavender and bergamot oil into their mix. Bergamot oil is another natural anti-inflammatory and anti-hyperpigmentation oil that helps add color to the skin, and can even work to hide scars, rashes, and marks and smooth out your skin tone.
How To Get That Perfect Radiant Skin With The Spiritual Affinity's Body Scrubs
With a few jars of The Spiritual Affinity's all-natural skincare scrubs, beautiful, clean skin is right around the corner! Putting the natural essential oils and butters to work is so effortless, we can't even call it a chore!
Starting with damp (but not too wet) skin, open the jar of your chosen natural skincare body scrub and take a small fingerful. Using your fingers or a slightly damp cloth, gently massage the cream in a circular motion around your skin, starting with in one area and then working your way around. If you have damaged areas of your skin, spend more time there and add some more scrub when you come back.
Finally, rinse yourself down and see the body scrub slowly wash off. You'll notice the effects immediately – your skin will feel soothed, relaxed, and smooth to the touch as soon as you dry off!
For maximum results, it's recommended to use The Spiritual Affinity's skincare body scrubs 2-3 times a week.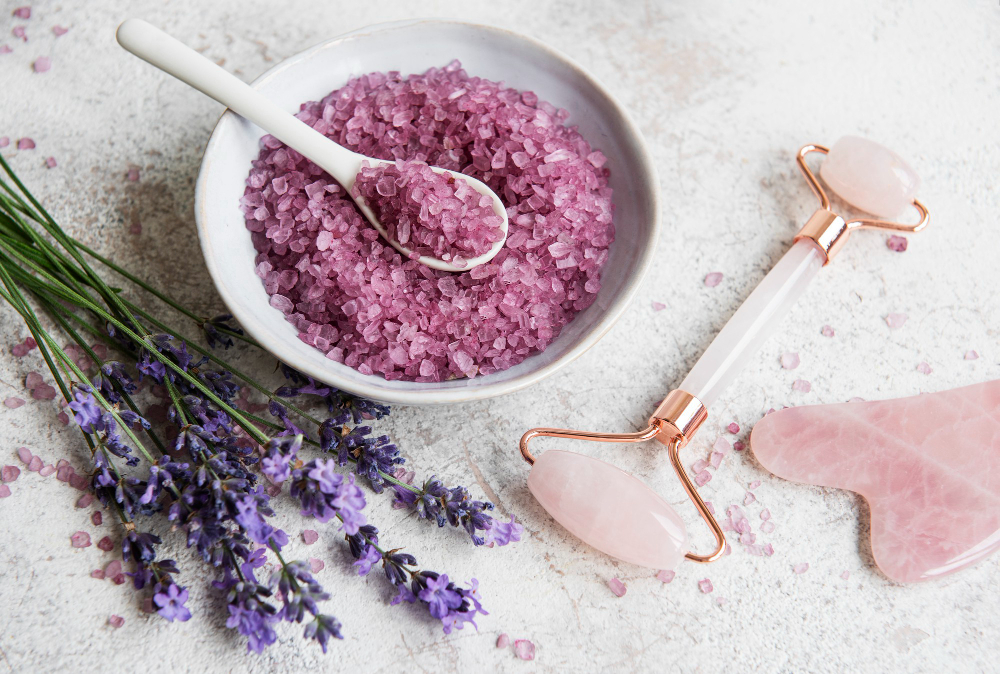 The Spiritual Affinity: What's So Special?
The Spiritual Affinity is a family-run business producing everything by hand right here in the US. Every product is carefully designed with locally sourced, natural ingredients that all have proven effects in skincare.
And there's much more to natural skincare products like what The Spiritual Affinity makes than just what it can do for your skin. To start, it's a lot better for the environment! If you care about sustainability and using energy-efficient products, you'd be glad to know that natural cosmetics like skincare products are free of synthetic chemicals and their massive carbon footprints. The Spiritual Affinity sources all of its ingredients from local organic growers — it all comes from the Earth!
Natural skincare products can also be a massive improvement to your health in the long term. Chemicals like lauryl sulphate and phthalates that are found in most off-the-shelf skincare products can not only lead to a negative reaction from your skin, but can also damage your overall health. The skin is, after all, the body's first line of defense from outside pathogens and diseases, so any weakening of the skin will eventually lead to some of the wrong germs getting into your body.
The skin's other important job is to let the bad stuff out. When you sweat, that's the body releasing chemicals that it no longer needs. Many of these are simple byproducts of normal bodily functions that can be toxic if kept in the body. You won't sweat as easily through chemical-dried or damaged skin, and that can quickly lead to deterioration in your overall health.
And then of course, there are other benefits of keeping natural products in your medicine cabinet. The fresh smell of essential oils and herbs that come from the Earth that comes from high-quality, natural body scrubs can relax and freshen the mind even when you're not using them. There's a good reason why the same flavor mixtures are also popular for incense and sauna aromas. They're just great things to have around, and there is absolutely no denying that!
With any skincare product from The Spiritual Affinity, you know you're getting something 100% natural. Every single drop of what you'll be rubbing on your skin comes straight from plants, flowers, fruit, and the Earth. There are zero synesthetic chemicals or preservatives that can damage your skin or harm your health; just essential oils and herbs that've been used in skincare for centuries!
All of The Spiritual Affinity's skincare products are carefully tested. You can trust us that we wouldn't be hyping up Glow-Up and Unbothered if they didn't lead to proven results. Yep, we try everything and know which ones work and which don't!  
And trust us that your body and skin will notice the changes right away! When you stop using synthetics and start putting natural creams and lotions on your skin, you'll feel the smoothness and relaxed touch of your skin as soon as you come out of the shower. Yes, it can really be that fast! And that's not to mention the delightful and calming aroma of natural skincare, which will calm your mind and body as you soothe your skin. You can expect to notice longer-term improvements to your skin, such as repairs to damaged or discolored areas of skin, after about 1-2 weeks of regular use.
If you haven't had radiant skin for a while, then the clock is ticking and it's time to take the action your skin needs! It's easy, it doesn't take long, and only costs as much as a few cups of coffee! Click the link below and treat yourself to some of the best skin and a refreshing new life like you've never had before!
* In partnership with our friends at The Spiritual Affinity LLC.* Photo courtesy of The Spiritual Affinity LLC.
* These statements have not been evaluated by the Food and Drug Administration. These products are not intended to diagnose, treat, cure or prevent any disease.
* The information available on ewellnessmag.com, including text, graphics, and other materials is for informational purposes only. Reliance on any information in ewellnessmag.com is at the user's own risk. Sponsored product placement may appear in the article. The visitor of this website acknowledges that the information available on or through ewellnessmag.com is not and is not intended to be a substitute for professional medical advice. Copyright © 2023 Brawo Press, Inc. All rights reserved.
---