Article
C Beautiful Change: A Step Back into Peaceful Times
There was a time not so long ago when the day began with the rise of the sun and the song of a bird outside our window. We relied on one another for sustenance and care, and we tucked ourselves in with the rise of the moon.
The work might have been weary on our bones, but it was refreshing to the soul.

Now, in modern hustle culture, we awake to a blaring alarm clock before the sun rises and we can't hear the birds through the morning news. We commute to work, where we bathe in fluorescent lights and looming deadlines. We don't have time to rely on one another anymore, and our sustenance comes in convenient plastic packages from a factory far away.
The work might be easier, but it's weary to the soul.
Does this sound familiar?
In the midst of our busy lives, most of us yearn for simpler times rich with quality and purpose.
Maybe we can't trade our alarm clock for a rooster crow just yet, but perhaps we can change just one aspect of our modern lives before the day begins.
Perhaps we can take a moment to care for ourselves with trustworthy, handcrafted products infused with lavender and sandalwood. If there isn't time for simple pleasures, are we really living?
We invite you to step back in time with us as we introduce you to your trusted local soaper, C Beautiful Change.
The C Beautiful Change Way of Self-Care
C Beautiful Change is all about uncovering your natural beauty with a focus on handcrafted, self-care products. They pride themselves on creating handmade soaps and self-care products made with natural spices and plants traditionally used for nurturing and healing.
They believe everything natural was created by God to be used medicinally for our bodies. He intended herbs and flowers to care for and heal the body and mind.
Their mission is to help both women and men discover their innate, God-given beauty by peeling back the layers within and embracing their true essence. They firmly believe true beauty radiates from within, and their goal is to assist you on this transformative journey of self-discovery.
They serve mainly men and women ages 25-60 who are striving toward creating better spaces for themselves and their families. Since this age range is pretty wide, there were some aspects of their formulas they had to consider.
They wanted to make sure their soaps cater to those with all different skin types: dry, sensitive, oily skin, inflamed, and mature skin.
They wanted C Beautiful Change to be a safe space for all ages, skin types, and lifestyles. That's why they craft each bar of soap, scrub, and body butter by hand with the finest ingredients available.
Maybe you can't stroll into their little shop yourself, but when their products arrive at your front door, you can be sure they came from their loving, experienced hands to yours.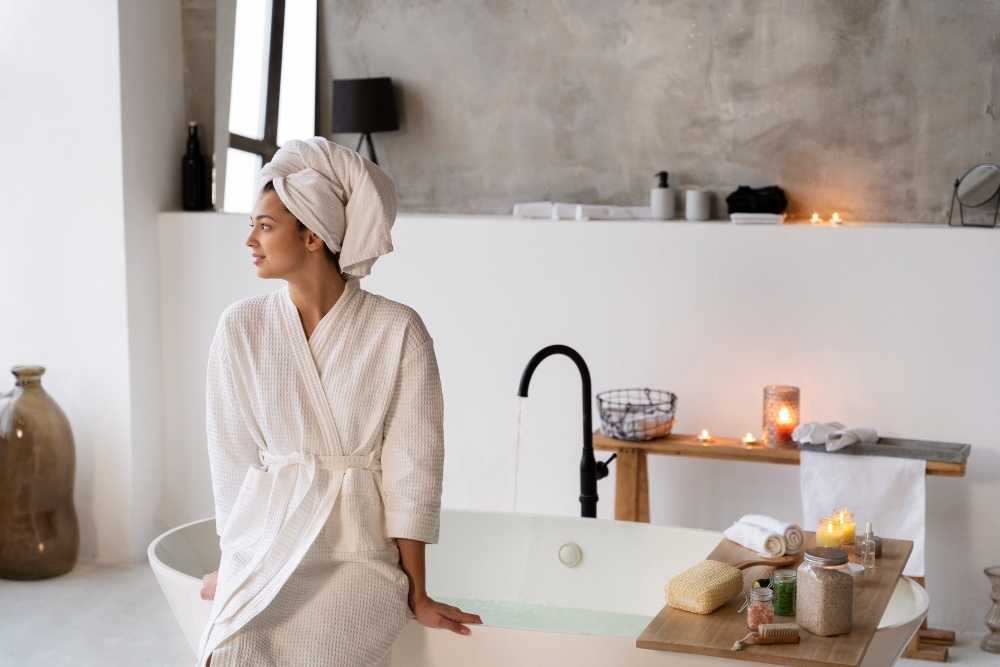 Finally, A Beauty Company You Can Trust.
At C Beautiful Change, everything used in their products not only comes from love but from an experience. An experience from their careful hands to your precious home.
Their natural, handmade soaps are crafted with the purest essential oils and natural fragrance oils nature has to offer. Take your pick from lavender, sandalwood, and various others that will awaken your skin and leave you feeling revitalized and cared for. After all, caring for yourself allows you to care for the people around you.
The skin is our body's largest organ. Just like any other organ, it's susceptible to wear and tear, and stress. So why not love and care for it with natural products that not only clean and nourish the surface, but also give you the natural glow you're looking for?
We know this is exactly what you want to do. But maybe you aren't sure who to turn to. Conventional soaps have an ingredient list a mile long, and most of the words are unpronounceable. Even "natural" products contain harmful chemicals, preservatives, and artificial fragrances.
Deciphering which products are safe to bring into your home is a stress you can't afford.
Let C Beautiful Change take this off your plate.
Their Heart Behind Soap-Making
Through their products, C Beautiful Change aims to instill the importance of self-care, recognizing that nurturing yourself is the key to being available for those you love.
Their heart lies in providing detoxifying soap formulas that leave you feeling rejuvenated and refreshed. Each bathing experience is an opportunity for self-love and pampering, turning your daily routine into a moment of total indulgence.
Studies show that having only two or three good choices is easier on the mental load than an entire shelf-full of choices. So, we have two soap bars we would like to share with you: the Lavender Soap Bar and
the Sandalwood Soap Bar. Both of them are a true delight.


Lavender Soap Bar
If you are craving a moment of tranquility amidst the bustle of the day, C Beautiful Change's Lavender Soap Bar is for you. This decadent soap is carefully designed to clean your skin and wrap you in an embrace of lavender that will last all day long.
Lavender, as we all know, is a truly calming herb beloved for its calming and healing properties. After using this Lavender Soap Bar, you will feel refreshed and relaxed after a hard day. Or, use it in the morning and reap the calming lavender soap benefits throughout your day. The Lavender Soap Bar's nourishing formula will leave you in a state of true tranquility that not even the busiest day can thwart.
Sandalwood Soap Bar
Are you looking to ground yourself amidst the hustle and bustle of the modern world? Do you crave a scent of woodiness, even when the forest is out of reach? The Sandalwood Soap bar was created just for you.
The Sandalwood Soap bar is another luxurious soap with wonderful healing properties. It helps diminish dark circles and fine lines, allowing you to showcase your best self to the world. Sandalwood also assists with repairing damaged skin tissue, quieting mind chatter, and promoting a sense of peace and clarity.
This Sandalwood Soap Bar carries a woody scent that will leave you feeling grounded to the Earth. Use before your day begins to carry the peaceful scent of the woods into your busy life or enjoy before bed to quiet your mind and aid in a peaceful night's rest.


A Breakdown of Additional Ingredients
Coconut oil. Coconut oil's antibacterial and antifungal properties make it a perfect base for hand-crafted soap. In addition to the luxurious scent of coconut, it aids in:
Moisturizing

Treating acne

Boosting antioxidants and collagen

Reducing inflammation and signs of aging

Evening skin tone

Softening skin
Avocado oil: While traditionally used for cooking, avocado oil naturally contains powerhouse nutrients like vitamin E, potassium, and lecithin. It also aids in:
Moisturizing

Healing eczema and psoriasis

Treating acne

Accelerating wound healing

Treating sunburned skin

Reducing signs of aging
Shea body butter: Found in the nuts of African trees, shea body butter is rich in skin-healthy antioxidants and anti-inflammatories that aid in:
Moisturizing

Soothing problem skin

Wound healing

Fighting breakouts and aging
FAQ about essential oils.
Maybe you've heard about the benefits of essential oils, but you aren't sure if they're right for you. Let us put your worries to rest.
Are essential oils safe?
Yes. Essential oils are generally safe when used appropriately. The quality of the essential oils is also important, which is why C Beautiful Change uses only the highest quality, pure essential oils available.
Because the essential oils are diluted in their soaps, they are safe for even the most sensitive skin. You can also use the Lavender Soap Bar and Sandalwood Soap Bar on children.
Can essential oils be used on skin?
Yes. Pure, therapeutic-grade essential oils like lavender and sandalwood are wonderful, safe additions to your skincare routine.
Some essential oils, like citrus oils, should not be used on the skin within twelve hours of sunlight exposure because they are phototoxic, meaning they can burn when exposed to sunlight.
Are essential oils safe for dogs and cats?
Many essential oils are perfectly safe to be used topically and aromatically for pets but are not advised to be used internally.
C Beautiful Change: A Promise to Consumers
Most of the consumers in the 25 to 60 age range really prioritize skincare products that are free of harsh chemicals and irritants. That is exactly what the soapers at C Beautiful Change prioritize too. They want to ensure their consumers are satisfied with everything they create for their skin, so they use only the highest quality oils, body butter, and pure essential oils.
C Beautiful Change is more than just a brand. It is a transformative movement dedicated to fostering personal growth, self-discovery, and empowerment. They extend an open invitation to you, and to all individuals, to join them on this transformative journey to embrace the power of self-care and love and to rise to your fullest potential.
Together, we can create a world where every individual has the opportunity to become the best version of themselves, one beautiful change at a time.
Experience the C Beautiful Change Movement
We invite you to step back in time to a little shop with wooden shutters and "C Beautiful Change" written on a sign above the door. Here, your local soaper crafts soaps and body butters with herbs that grow right outside their window.
Bouquets of lavender hang from the rafters, ready to infuse tomorrow's products. The soaper grinds chips of sandalwood with a stone pestle, just for you.
Can you smell it?
Visit C Beautiful Change's online shop and experience the peace and tranquility that accompany their soap bars, body butters, and scrubs.
* In partnership with our friends at C Beautiful Change LLC* Photo courtesy of C Beautiful Change LLC
* These statements have not been evaluated by the Food and Drug Administration. These products are not intended to diagnose, treat, cure or prevent any disease.
* The information available on ewellnessmag.com, including text, graphics, and other materials is for informational purposes only. Reliance on any information in ewellnessmag.com is at the user's own risk. Sponsored product placement may appear in the article. The visitor of this website acknowledges that the information available on or through ewellnessmag.com is not and is not intended to be a substitute for professional medical advice. Copyright © 2023 Brawo Press, Inc. All rights reserved.
---