Article
Naturally Fabulous: Unleashing the Magic of Natural Hair Care!
Do you ever find yourself captivated by the flowing tresses of your favorite celebrities, wondering how they manage to flaunt such luscious locks that seem to defy all haircare odds? Well, prepare to be let in on a delightful little secret that could unlock the key to haircare bliss! Welcome to the enchanting world of natural haircare – a realm where the power of Mother Nature's gifts can work wonders on your tresses, leaving you with a mane that radiates health, vibrancy, and sheer fabulousness!
In a world where we are bombarded with an overwhelming array of chemical-laden hair products, embracing a natural hair care routine can feel like a breath of fresh air. It's an adventure for your hair, and also for your senses! Picture this: vibrant botanical scents filling the air, the silky touch of nurturing oils gliding through your fingers, and the excitement of discovering new herbal remedies for your hair's delight. Say goodbye to harsh sulfates, parabens, and synthetic fragrances, and say hello to the bountiful beauty that nature has to offer.
So, where to begin on this journey to naturally fabulous hair? Fear not, for we are about to embark on an expedition through the magical realm of natural hair care, where we'll explore some of nature's most potent elixirs, guaranteed to bring joy and vitality to your precious strands.

Back to the roots of hair care
The history of using natural products in hair care traces back to ancient civilizations, where the bountiful gifts of Mother Nature were treasured for their profound effects on hair health and beauty. From the lush gardens of ancient Egypt to the exotic herbs of Ayurveda in India, people have long turned to plants, oils, and herbs to care for their locks. Cleopatra herself was renowned for her legendary beauty, and she famously incorporated ingredients like honey and aloe vera into her hair care regimen. In traditional Chinese medicine, herbal remedies were concocted to address specific hair concerns, passing down wisdom through generations. Native American tribes utilized native plants like sage and jojoba oil to maintain their hair's strength and shine. Over time, these timeless practices have transcended borders and cultures, inspiring the modern world to embrace the beauty of natural hair care once again.
Today, the revival of using natural products in hair care celebrates the harmonious union between self-care and respect for the environment, offering a journey back to the roots of nature's nurturing prowess.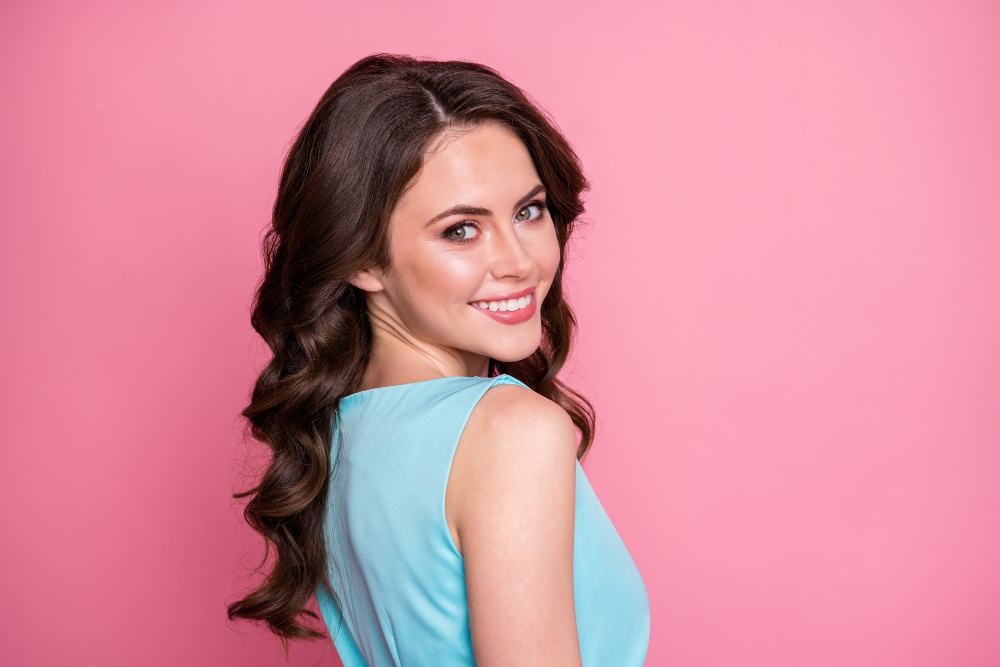 Essentique
If Essentique products aren't already at the top of your hair care wishlist, let me tell you why they should be.
In 2016, amidst a sea of commercial beauty products, one extraordinary biologist dared to embark on a quest to create a line of all-natural beauty care that would redefine the industry's standards. Meet Mondonna, the visionary founder of Essentique, whose passion for both biology and the preservation of nature led her on a captivating path towards crafting something truly exceptional.
With years of invaluable laboratory experience under her belt, Mondonna found herself dissatisfied with the conventional offerings in the beauty world. The desire for products that aligned with her stringent requirements – highly effective, all-natural, and environmentally conscious – spurred her to take matters into her own hands. As she embraced a holistic approach to natural beauty care and lifestyle, she realized that the market lacked the products she needed – ones that would cause no harm to the body, living beings, or the planet itself.
Armed with unwavering determination, Mondonna ventured into the uncharted territory of formulating her own hair, skin, and aromatherapy products. Her mission was clear: to create a line that reflected her values, leaving behind the detrimental practices of the mainstream beauty industry. The journey was not an easy one; it took several years of relentless dedication and meticulous research to perfect the initial formulations for the Essentique product line.
Once she achieved her vision, Mondonna's devotion to quality extended to every step of the process. Establishing a boutique and laboratory in the picturesque setting of Palo Alto, she ensured that each bottle and jar of Essentique's creations would be lovingly hand-crafted and meticulously prepared, preserving the freshness and potency of the natural ingredients.
Essentique was born from a profound desire to break free from the conventional norms and to usher in a new era of clean, boutique-quality natural beauty products. Essentique's mission is anchored in the belief that beauty care should be a seamless union between self-care and care for the planet we call home. From hair and skin care to aromatherapy and perfume oils, our diverse line of offerings has been thoughtfully curated to cater to the holistic well-being of our cherished customers.
Every ingredient in each Essentique product is meticulously researched and thoughtfully included, with a purpose that aligns with our commitment to natural, clean beauty. They believe that beauty should be a reflection of harmony, integrity, and a connection with nature's essence, rather than a compromise between efficacy and ethical values.
Essentique is redefining beauty, one natural step at a time, and we're here for it!
Egcell


Say goodbye to damaged hair woes, because Eggcel's got your back! With its nourishing and conditioning formula, it's like a spa day for your hair, helping it retain moisture and shine like never before. And guess what? It's not just egg whites in the mix; the goodness of egg yolks joins the party too! Those unsaturated fatty acids in egg yolks work wonders, hydrating even the driest and most brittle hair, giving it a new lease of life.
Let's face it - nobody likes a bad hair day, but with Eggcel, those worries are egg-sactly what you'll be leaving behind! Eggs are the haircare superheroes we've all been waiting for. They team up to keep your hair clean, strong, and oh-so-healthy. It's like a protein-packed breakfast for your hair, giving it the nourishment it craves to shine like a star!
The dynamic duo of blue agave and biotin liposomes work hand in hand to give your hair the extra TLC it deserves. Blue agave brings a wave of moisture to your tresses, like a refreshing drink on a hot summer day. Its powerful hydration game is on point, while fructose swoops in to shield your hair from any pesky environmental stress that comes its way.
Biotin Liposome takes your hair quality to the next level! It's like a personal trainer for your locks, making sure they stay in tip-top shape and lookin' fine! Together, this trio creates the ultimate dream team for your hair, making it softer, fuller, and oh-so-fabulous!
Crown


Crown is not your ordinary serum – it's a multi-tasking superstar with high-performance phyto-actives that form a hair-loving harmony, creating the perfect environment for your hair to thrive. Long gone are your hair worries, because this gentle yet effective serum is here to stimulate hair growth for both ladies and gents alike. It's the innovation your locks have been begging for, providing a comprehensive approach to scalp health and hair growth like never before.
So, what's the secret behind this magical elixir? Well, it's backed by some serious scientific know-how! Based on a scientifically reviewed article published in 2019, Crown boasts a lineup of plant-derived phytochemicals that elevate hair growth to a whole new level of fabulousness. This serum is a celebration of carefully chosen herbal extracts, liposomes, flavonoids, and plant actives – all working in sync to bid farewell to hair loss and welcome thicker, lustrous locks.
There are some seriously amazing plant oils in the mix, too!
Ginseng Extract promotes hair growth and overall capacity to prevent oxidative damage in cells.

Saw Palmetto encourages hair growth in the top and back area of the scalp .

Biotin Liposomes contribute to improving hair density. Clinically shown to increase of hair density by 9% in male and 16% in female subjects in clinical studies

Chili CO2 Oil helps with healthy blood circulation, stimulates the perifollicular nerves and hair follicle immune system.

Red Clover Extract contributes to better follicle regeneration, anti-thinning effect and hair densifier.

Caffeine Liposomes reduce micro-inflammation and stimulate cellular proliferation. Because of its antioxidant activity it helps with maintaining healthy scalp. Studies show its role in mitigating androgen-induced hair loss.

Amaranth Seed Extract in a form of small unique peptide encourages greater penetration into the hair fiber with ability to increase the diameter of individual hair fibers resulting in fuller hair. Adds gloss and shine for healthier looking hair.

Pumpkin Seed Oil may increase in hair thickness and hair count (density)

Black Seed CO2 Oil known for its anti-inflammatory and regenerative properties as well as improving the moisture and hydration of scalp.
All these ingredients serve to amp up the hair proliferation game, delivering hair growth-promoting effects like never before. Trust us; your hair won't know what hit it!
What's even better? Crown is ultra-lightweight, water-based, and leaves no trace of greasiness or stickiness – just pure scalp bliss! With yarrow hydrosol, rosemary hydrosol, and bamboo hydrosol working their magic, your scalp will feel nourished and the blood circulation will get a boost, ensuring your hair grows happy and healthy.
Every single drop of Crown is a burst of nourishment for your hair follicles and scalp. This superstar serum is packed with high-performance natural bio actives, like red ginseng extract, nettle extract, raspberry ketone, caffeine liposome, and so much more – all coming together to make your hair dreams come true.
And hey, Essentique is all about making sure this serum is a joy to use! No unpleasant odors or stickiness – just pure hair happiness. Apply it to your scalp and let it work its magic till your next wash.
* In partnership with our friends at Essentique* Photo courtesy of Essentique
* These statements have not been evaluated by the Food and Drug Administration. These products are not intended to diagnose, treat, cure or prevent any disease.
* The information available on ewellnessmag.com, including text, graphics, and other materials is for informational purposes only. Reliance on any information in ewellnessmag.com is at the user's own risk. Sponsored product placement may appear in the article. The visitor of this website acknowledges that the information available on or through ewellnessmag.com is not and is not intended to be a substitute for professional medical advice. Copyright © 2023 Brawo Press, Inc. All rights reserved.
---