Article
Introducing Salt & Rind: Who Needs the Spa When You Can Do It All at Home!
We totally get why you do it—smooth and clean skin is a priceless part of our lives that's more valuable than anything money can buy! But getting professional-grade skin treatments is expensive and time-consuming. And it can massively tie up our lives when it means having to balance regular spa visits with work, family time, chores, and a social life. Yet for many of us, it's worth it, as how could it possibly be possible to get professional work done on our skin without regular treatment from a professional?
This is exactly what Kimmie Alessi, an accomplished San Diego-based esthetician and cosmetologist, started thinking a few years ago when she launched Salt & Rind skincare products.

The Story
They say that necessity is the mother of invention, and that was certainly the case for Kimmie Alessi!
When the pandemic hit and everyone started staying at home, like many beauticians, Kimmie was out of work as her clients couldn't visit her. Yet as the two weeks of sheltering at home quickly turned into months, she couldn't leave her clients without care. Kimmie knew she had to devise a way for her clients to continue treatment and keep their skin fresh within the comfort of their own homes, and she immediately began working on exactly that. Out of bare necessity in a time of crisis, Salt & Rind was born after a "Eureka" moment!
Kimmie began putting together custom facial kits, boxed together with careful instructions on how to apply each lotion and mask, and shipping them out to her clients. And she knew this had to become a routine, just like her spa sessions had been before the pandemic, so she crafted monthly plans for each client that included regular shipments of the necessary product concoctions to ensure the treatment would continue.
And her clients loved it! In a time when most parts of everyone's lives were thrown upside down and out the window, they could still cling onto one important life routine. This was the simple bit of stability in a rough time that they needed.
As the case numbers receded and the world opened back up, most of us went back to our old routines. Most bars, restaurants, schools, and beauty salons quickly dropped their hastily-crafted remote approach to business and went back to the old ways. But not Kimmie Alessi – she had other ideas!
Instead of reopening her shop like most skincare professionals were doing at the time, Kimmie saw the hole in the market and decided to focus on her home skincare brand. Even with beauty salons open again, many of her clients saw the value in being able to continue their beauty treatments at home. It's more cost-effective, saves on gas and our environmental footprint, and most importantly, saves valuable time that can be instead spent with friends and family. Kimmie knew more people would want this, she just had to reach them! "Why hasn't anyone thought of this before?" she kept asking herself.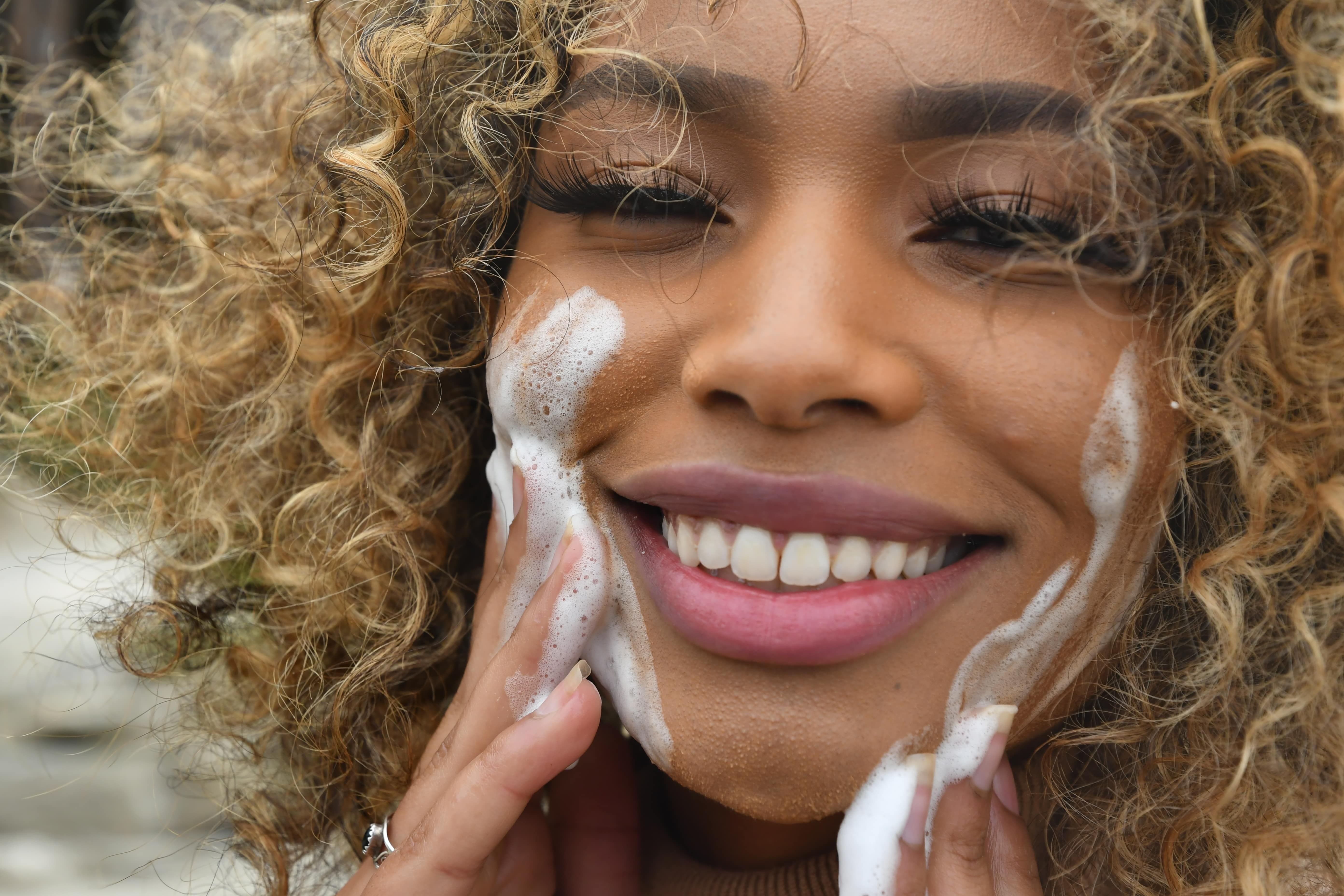 Salt & Rind: A New Self-Care Approach to Skincare
Salt & Rind delivers the full experience of a professional-grade spa treatment to your home. And if you think that's impossible, think twice!
No matter what treatment your skin needs, the custom kits prepared by Kimmie and her team at Salt & Rind offer your body and skin far more than just the oils and minerals in each bottle. Through the process, you'll be treated to the rejuvenating and relaxing aromas and sensations of a spa treatment session, all in the comfort of your home! A spa should mean being able to unwind for a moment, calm your body and soul, and forget about the stresses of the real world. And there is no reason to think this should stop just because your spa is at home!
All Salt & Rind products are professional-grade skincare products made from all-natural ingredients. They're the same type of lotions and oils that you can expect at a professional spa, and indeed, they're the same ones that Kimmie would use to treat clients at her spa as well! Kimmie builds her kits with the knowledge and experience she gained from her years as a beautician, knowing exactly what goes into creating that forever-glowing skin that her clients walk out with. Salt & Rind cuts zero corners when preparing their self-care sets; you can expect every drop of lotion and oil that you'd get at a professional spa.


The Daily Dose: Pandora's Box of Skincare
We're warning you, once you try it, there's no going back!
The awesomeness and beauty of Salt & Rind is packed into a single custom-made kit. We introduce you to The Daily Dose.
Each box of The Daily Dose is custom-assembled to contain everything you'd expect in a 30-day beauty spa treatment from a professional. Yes, you read that correctly, 30 days of professional treatment, all packed into one little box with everything you need to treat yourself from the comfort of home! You can achieve that brightly glowing skin you've always wanted without ever needing to leave home and spend hours at a salon.
How does it work? Well, we can't give away all the secrets, but each kit of The Daily Dose contains five steps to achieving perfect skin at the end of its 30-day treatment program.
Step 1: The Daily Detox
Step 2: The Mnrl Fix
This unique formula is designed to soothe stressed skin and make it stronger and shinier. Apply it soothingly twice a day, ideally after a shower in the morning and before bed, to your face, neck, and collar. The formula packs magnesium and zinc to help your skin shine like never before. These minerals are natural shiners that are used to shine just about everything that glows, from jewelry to chandeliers to porcelain ornaments, and they work just the same way on your skin. The magnesium and zinc in this concoction come from natural sources, including edelweiss, rose, and olive leaf.
Step 3: The Multi-Tasker
Okay, now it's time to really put this treatment to work! The next powerhouse brightening serum you'll be applying has active ingredients to help exfoliate your skin while at the same time strengthening the dermis and leading to a future of strong and shiny skin. For this part of your routine, wait for your skin to dry a little, then apply a thin layer of the serum over your face and let it sit for a few minutes. Most people should apply this once a day throughout the treatment, though if you have sensitive skin, you might want to reduce that to 2–3 times per week.
A truly remarkable concoction that accomplishes multiple feats for your skin, the magic formula of The Multi-Tasker includes a variety of juices and extracts from a number of exotic yet highly effective fruits and herbs such as pyrus malus, caviar lime, spondias mombin, camu camu, and açaí palm.
Step 4: The Revivalist
Now that your skin has been refreshed and soothed, it's time to give it the energy and nutrients it needs to grow! This step unleashes the power of superfoods to feed your skin cells and detoxify damaged skin to allow for repair.
This vitamin-rich formula is made from a number of superfood extracts, including sativa water, yeast ferment, pyrus malus, sea buckthorn, and safflower. Simply apply 2-3 drops of The Revivalist in a thin layer, and rub in gently. Before you know it, you'll be treating your skin to all the essential vitamins and omega acids that it needs to healthily replicate, grow, and shine!
Step 5: Omega Babe!
For the last step of Salt & Rind's flagship home treatment, it's time to finally let your skin shine with its youthful radiance! Omega Babe contains natural acids and oils that mix together with your skin's natural oils to create a youthful glow and a long-lasting moisturizing feel. Just massage this deeply moisturizing cream in one simple step and your skin will shine like never before!
The Omega Babe formula gets its magical effect from a number of exotic oils, such as argania spinosa oil, camelina sativa seed oil, and rosa canina oil.

Of course, we don't want to give away too many spoilers here, so this is just scratching the surface! There's much more to know about the magic you'll get in The Daily Dose, and you can be sure that each box will contain all the information and instructions you need to work the magical formulas into your skin just like a professional!
Just like your local beauty spa would, The Daily Dose adapts to your skin's needs throughout the year. If you like the results and want to continue the treatment (and we're sure you will!), the next month's Daily Dose won't just be a repeat; every season the formulas are tweaked to best suit your skin for the current atmosphere. Our skin is our body's first line of defense against outside elements, after all, so what it needs will change as the elements do!
If you think it's time to give your skin the treatment it deserves, one that will nurture the natural glow of your face and give you the looks and confidence you've always wanted, it's time to treat yourself to Salt & Rind. Self-care is a journey, and one that Kimmie Alessi and the Salt & Rind team know inside and out. Each 30-day box of The Daily Dose will take you on a one-month journey to fresh, shiny skin. You'll be doing everything from the comfort of your own home, but Kimmie and her team will be there for you the entire journey if you need them.
Salt & Rind is a community created by some of the top skincare professionals, made for each of us with a true passion for quality skin. So, what are you waiting for? Order yours online today, and don't say we didn't warn you; when you open Pandora's Box, there's no going back!
* In partnership with our friends at Salt & Rind Inc. * Photo courtesy of Salt & Rind Inc.
* These statements have not been evaluated by the Food and Drug Administration. These products are not intended to diagnose, treat, cure or prevent any disease.
* The information available on ewellnessmag.com, including text, graphics, and other materials is for informational purposes only. Reliance on any information in ewellnessmag.com is at the user's own risk. Sponsored product placement may appear in the article. The visitor of this website acknowledges that the information available on or through ewellnessmag.com is not and is not intended to be a substitute for professional medical advice. Copyright © 2023 Brawo Press, Inc. All rights reserved.
---