Article
Finally, the Skincare Solution You've Been Waiting For
It's already 2022, and there's a good chance many of you still haven't committed to maintaining a serious daily skincare regimen. Maybe you just haven't found the right one yet (as in, one that actually works), or maybe you simply never started one at all.
The fact is that everyone would prefer to have a clear, vibrant complexion. After all, when people talk to you or look at you, one of the first things they notice is your face. Like it or not, your appearance will have an impact on how others view you.
It's easy to feel like you're on top of the world when you have a great-looking face. On the other hand, a face with acne and blemishes makes hiding your head in the sand a compelling idea. Of course, that's not how real life works for most of us.
Yes, appearances do matter in today's world. But, more importantly, when you take care of your skin, you are also taking care of yourself. Fortunately, we have the ideal solution to help you regain control of your skin's health.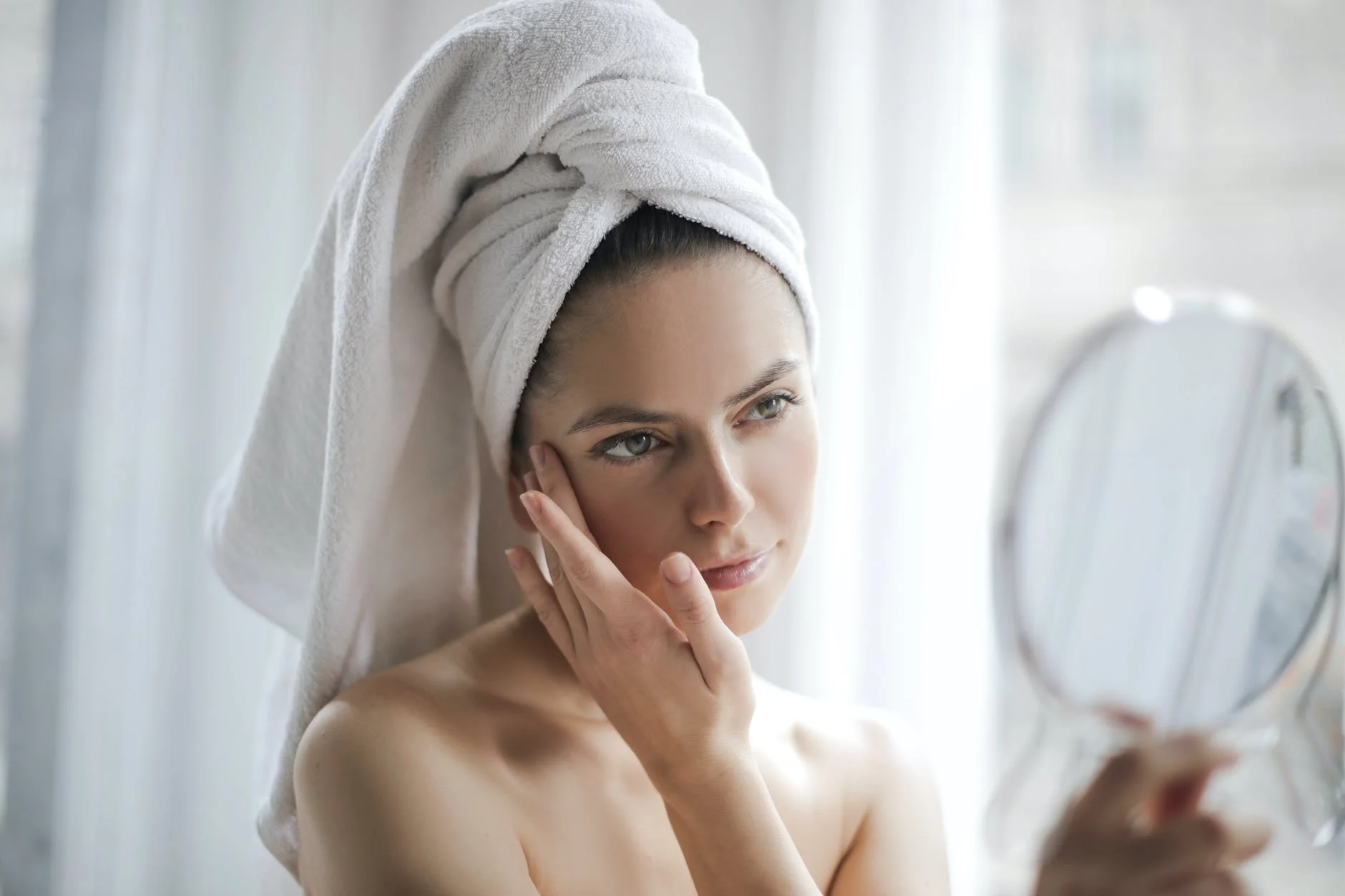 Skincare is a Journey
Achieving clear and healthy skin requires a long-term commitment that can take several weeks or months to see benefits. In a world where most consumers expect instant gratification, these timeframes can be difficult to accept.
As a result, they revert to using makeup products as short-term fixes that provide an immediate change. However, relying on makeup to mask your underlying skin issues can potentially complicate things further.
Why skincare is so important
Proper skin care is about more than just looking good. Here are a few more advantages to think about:
A good skincare routine helps promote healthier living:
Making healthy lifestyle changes is an important part of maintaining a successful daily skincare regimen. After all, if you're taking the time to wash your face in the morning and before bed, you're probably already making healthy choices throughout the day. 

Skincare can be combined with comprehensive oral care and hair care regimen. All of these things may help motivate you to eat healthier and exercise more. All of this adds up to a happier, healthier you.
It keeps your skin in good shape. Your skin may appear to be flawless today, but that may not be the case tomorrow. Because your skin cells are shed during the day, maintaining the rest of them looking fantastic is crucial to ensuring that they look wonderful the next day. 

As you become older, your skin cell turnover slows down, making your skin appear less bright and lackluster. Using skincare products helps to eliminate dead skin cells and replace them with new, healthy cells.

Prevention is more effective than correction:


Taking a preventative approach to skincare is critical for long-term success. Acne, dryness, premature aging, and other skin problems can harm your skin over time. Consider the effect they can have on your face over the course of 10, 20, or 30 years.
Many of these issues, however, can be readily resolved by adopting a skincare program into your daily routine that includes moisturizing and applying anti-aging products. In the grand scheme of things, these are quick, easy routines that almost anyone can perform.
eraclea's innovative approach was inspired in large part by the problems the creators of eraclea they observed with the skincare products already on the market. eraclea® is a high-performance skincare line with five product categories: cleanse and exfoliate, hydrate, repair, rejuvenate, and acne.It is the only skincare brand that infuses each product with the exclusive, patented HylaFusion®, which was developed solely by the eraclea and Matrix Biology Institute teams and is based on decades of research.

 
HylaFusion® is a game-changer in the skincare industry
HylaFusion® is a breakthrough ingredient that blends three different forms of hyaluronic acid into a single product.This results in an ultra-hydrating product that keeps water, biologically active ingredients, and small water-soluble molecules moving toward the deeper layers of the skin. HylaFusion® functions as a protective second skin layer in each of our formulas, facilitating all-day hydration and excellent active ingredient penetration while staying dry to the touch.
eraclea's treatments effectively distribute biologically active molecules to the skin, slowing the natural effects of aging and enhancing elasticity and suppleness. HylaFusion®  can also help to reduce the appearance of fine wrinkles while also improving the skin's overall health.
 
Pure Hydration Serum/Zinc
Pure Hydration Serum/Zinc is an excellent choice for treating stressed, irritated skin. This light, moisture-rich serum employs zinc's antibacterial and anti-inflammatory properties to promote skin healing and reduce redness. This delectable serum is designed to hydrate the skin while also renewing, repairing, and revitalizing it.
Many skin care products on the market contain chemicals that can induce acne breakouts in sensitive skin.   It's no wonder the new skincare products are often met with skepticism. However, with Pure Hydration Serum/Zinc, eraclea's world-class skincare experts have created something truly unique.
You get a potent moisturizing serum that's bolstered by zinc's skin-improving effects. The result is gorgeous skin without the risks associated with these other conventional commercial skin care treatments.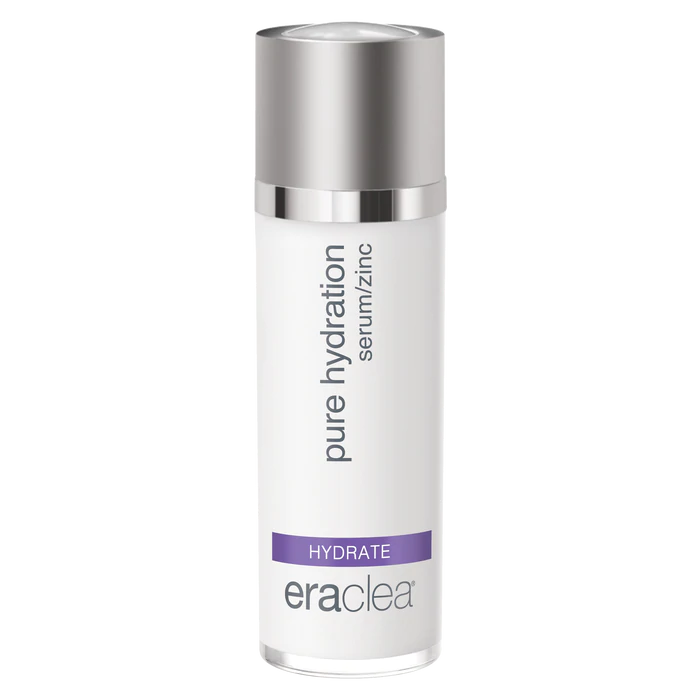 Contains HylaFusion®, an eraclea®-exclusive clinically proven revolutionary hyaluronic acid compound, which leaves skin feeling fresh, smooth, and hydrated with no greasy residue.

Maximizes skin hydration

Calms and soothes the skin

Promoteshealing

Anti-bacterial and anti-inflammatory

Nurtures, nourishes and refreshes stressed skin

Soothes and hydrates irritated skin

Works great on all skin types

Powerful anti-aging properties
 
Acne Defense Day/Night lotion
Our new acne treatment is scientifically designed to clear up acne rather than dry out your skin. This allows it to target superficial blemishes and clogged pores more effectively, making it ideal for treating both chronic acne and occasional breakouts.
Acne defense day/night lotion is ultra-lightweight and contains 2% salicylic acid to keep blemish-prone skin smooth and healthy. Exfoliating agents soothe and calm the skin while also reducing irritation. This combo works in tandem with the acne clearing treatment to minimize blemishes and prevent outbreaks swiftly and comfortably.

Acne Defense Day/Night lotion, on the other hand, will transform your skin revealing a smoother, healthier complexion, it was meant to be. Unlike other OTC treatments you've tried, Acne Defense Day/Night lotion helps exfoliate and dissolve dead skin cell buildup to unclog pores for smoother, healthier-looking skin.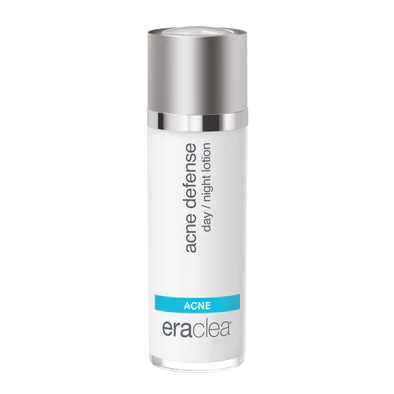 Exfoliates and dissolves dead skin cell buildup to open pores and reveal smoother, healthier-looking skin

Helps keep acne-prone skin hydrated and nourished

Reduces the visibility of pores and blemishes

Relieves skin redness and irritation

Promotes quicker healing
The creation of HylaFusion led to the creation of a new skincare line that would deliver on its promises. To combat aging, our skincare line is specifically designed to moisturize, hydrate, protect, and rejuvenate the skin.
Contact Eraclea today for skincare products that are both high-quality and affordable, and that we felt comfortable using and recommending to others.
* In partnership with our friends at eraclea* Photos courtesy of eraclea 
* These statements have not been evaluated by the Food and Drug Administration. These products are not intended to diagnose, treat, cure or prevent any disease.
* The information available on ewellnessmag.com, including text, graphics, and other materials are for informational purposes only. Reliance on any information in ewellnessmag.com is at the user's own risk. Sponsored product placement may appear in the article. The visitor of this website acknowledges that the information available on or through ewellnessmag.com is not and is not intended to be a substitute for professional medical advice. Copyright © 2022 Brawo Press, Inc. All rights reserved.
---