Article
Apothe's Guide to a Refined Skincare Routine
In the world of skincare, where countless products compete for your attention, there's a timeless beauty in simplicity. Much like a well-tailored suit or a classic piece of jewelry, a refined skincare routine can elevate your natural glamour to new heights.
Yet, as many of us struggle with cluttered routines, these countless choices can leave us feeling frustrated and lost. If you've ever questioned the products you're using or wondered why your skin lacks that natural glow, it's time to uncover the secret to a refined skincare regimen.
The quest for true luxury takes on a deeper meaning. It's not just about having a great product; it's about having the assurance that what you're applying to your beautiful body is crafted with the utmost care, using ethically-sourced, top-quality ingredients. Imagine experiencing the freshness and purity of each ingredient as you indulge in its feel and aroma.
Explore the world of Apothe Handmade Luxury, where simplicity is the ultimate sophistication. Indulge in the art of a refined skincare routine that elevates your natural beauty to new heights.
As we delve deeper into this journey of a refined skincare regimen, we turn to Apothe, a brand that exudes elegance through the art of minimalism. Discover the timeless appeal of a refined skincare routine that is backed by the advice of experts in the field.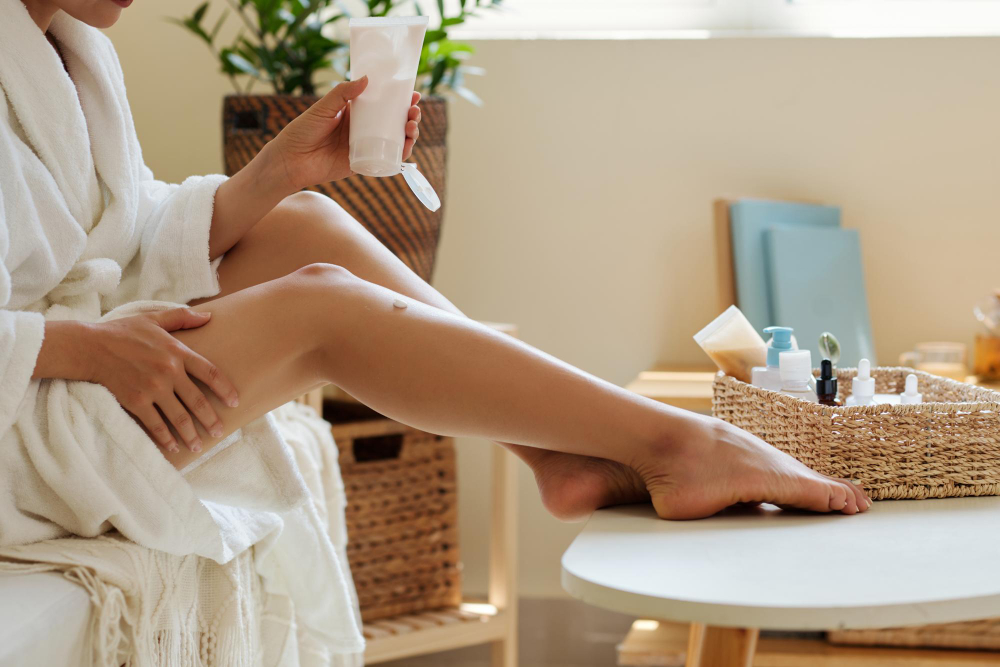 The Allure of Minimalism in Skincare
Skin health is a principle factor in overall well-being. It is easy to be seduced by the promise of complex routines with a multitude of products. However, true elegance lies in simplicity. Picture a canvas painted with just a few masterful strokes; similarly, a streamlined skincare routine can unveil your skin's natural radiance without all the clutter.
With infinite options available, it's easy to become overwhelmed by the multitude of products catering to various skin types and the result can often be confusing. A streamlined routine emphasizing a select few products ensures that you provide your skin with the essential nourishment it craves.
But why is this crucial? Because nurturing your skin is essential for its thriving health. By following a few effortless steps, you can achieve a radiant and revitalized complexion. Dive into the secrets of skin rejuvenation and embrace that youthful glow you've been longing for.
The Essentials of a Refined Skincare Routine
At its core, a refined skincare routine involves cleansing and moisturizing, as well as protecting. With a carefully curated product, you'll discover that following a straightforward, yet sophisticated regimen can become a luxurious daily experience. As your skin gracefully withstands life's daily challenges, the significance of a streamlined skincare approach becomes necessary.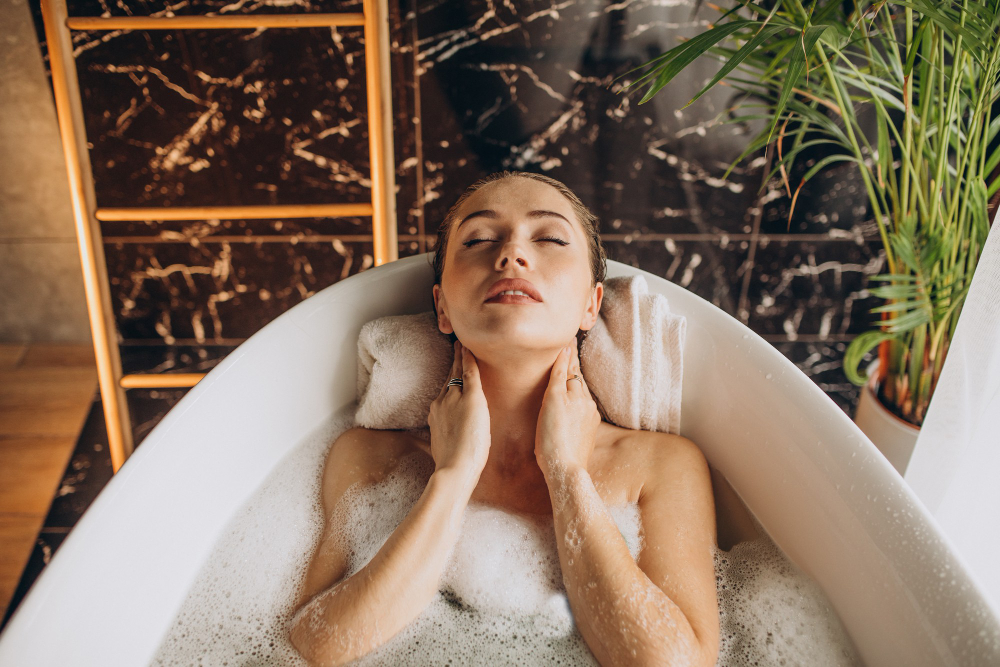 According to the experts at AAD (American Academy of Dermatology Association), the compelling reasons behind the remarkable effectiveness of a simple yet refined routine are:
Cleansing:
Removes the impurities from the surface. Not only does it reduce the grime and dirt, pollutants, make-up, and excess oils that accumulate on the skin, it will reduce the bacteria that cause irritations. These impurities can also clog pores, leading to breakouts and dull skin.

Maintains your skins protective layer. If this barrier is compromised, the skin becomes more vulnerable–dehydration and irritation can be common.

Prepares your skin to allow products to be fully absorbed and penetrate your skin.
Moisturizing:
Hydrates your skin. Whether you have oily skin, it still requires moisture to help keep its balance and stay healthy. Without the moisture, the skin can become dry and irritated.

Provides support for maintaining a protective barrier. The moisturizer will help to support your skin's function. The protective layer helps to lock in the moisture, creating a barrier to the environmental factors that can harm, dehydrate, and irritate your skin.

Provides anti-aging benefits. Daily moisturizing is a crucial step in managing aging skin.
This approach is not only efficient but also reduces the risk of future skin problems, helps preserve a youthful appearance, and supports overall skin health. It's the foundation of any successful skincare routine. Coupled with natural ingredients, this routine can ensure your skin retains that healthy glow you have been longing for. 
The Science of Elegance in Natural Ingredients
Apothe is a brand that epitomizes the concept of "handmade luxury" in skincare. Their products are crafted with ethically sourced, top-quality ingredients, and they take pride in creating small batches with as few components as possible. This approach ensures freshness and allows users to fully appreciate the feel, scent, and efficacy of each ingredient. Apothe embraces minimalism with a "Less Is More" philosophy, focusing on simplicity and quality. The brand's commitment to premium ingredients and a refined skincare routine, aligns with a growing awareness of what we put on our skin.
Behind every elegant Apothe product lies a carefully selected set of ingredients, each with a purpose. These ingredients aren't chosen by chance; they're backed by science and chosen for their proven benefits to the skin. Apothe's skincare formulations are an artful blend of science and elegance, offering you results you can see and feel.
Apothe "Daily" All-Natural Moisturizer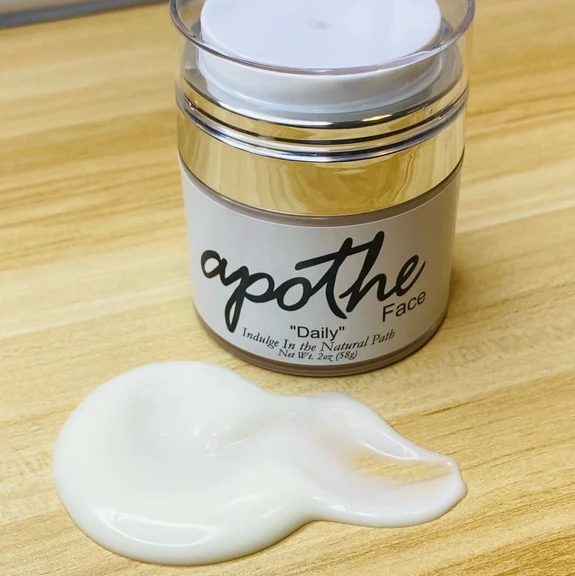 Apothe's gender-neutral "Daily" Moisturizer features the super ingredient, Garcinia Indica (Kokum) Seed Butter. Kokum Butter is a powerful moisturizer for the skin packed with essential fatty acids and rich in the antioxidant Vitamin E.  Not only does it naturally fight discoloration and sun spots by shielding the skin from the sun and pollutants, but it also reduces signs of aging by sustaining and regenerating skin cell membranes by penetrating the layers of the dermis to prevent degeneration…which means you are fighting damage before it ever starts!
Kokum Butter has many applications however, it is best used for its amazing properties in topical cosmetics.
Indulge in the essence of natural beauty with Apothe's meticulously crafted cream. Enriched with ingredients handpicked for their unique roles, Apothe "Daily" Moisturizer offers a harmonious blend of nourishment and soothing comfort.
Lavender Flower Water and Jojoba Seed Oil work in tandem to calm and hydrate your skin, while Kokum Seed Butter and Avocado Oil bring deep moisturization and revitalization. Apothe has harnessed the power of vegetable glycerin to maintain a silky texture and utilized a natural preservative blend and airless container to keep the product fresh. As you indulge in the cream's sensory journey, let the soothing scents of Lavender, Sweet Orange, and Ginger encase you, transforming your skincare routine into a spa-like experience. These three actives are antimicrobial, antibacterial, and anti-inflammatory premium essential oils perfect for both healthy and problematic skin.
Recognizing the significance of a simplified skincare regimen, Apothe has thoughtfully designed the "Daily" moisturizer to be versatile, suitable to all skin types for both day and night use. This ensures your skin receives the essential nourishment it craves. Discover the beauty of simplicity with Apothe "Daily" Moisturizer – where nature's wisdom meets elegance.
Apothe Skin Oil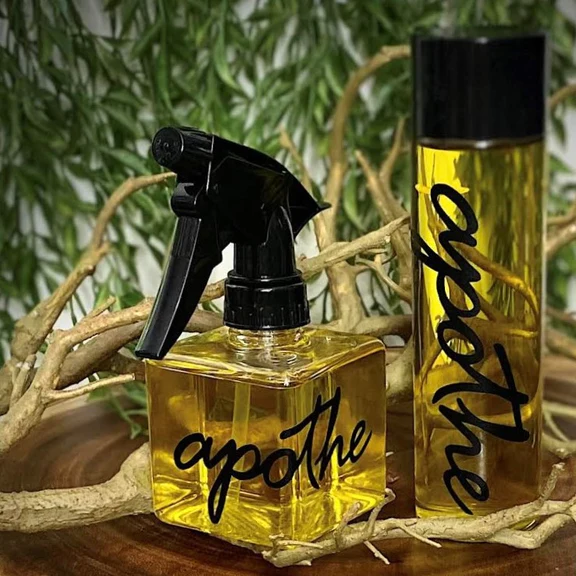 Apothe Skin Oil contains a luxurious blend of high-quality natural oils, including Jojoba Seed, Sweet Almond, Organic Extra Virgin Olive, Avocado, and Hemp Seed. These ingredients are known for their nourishing and conditioning properties, making them a premium choice for skincare.
Apothe has formulated a gender-neutral signature scent that combines premium cosmetic-grade fragrance with pure essential oils, resulting in a clean, earthy citrus scent. This attention to fragrance quality adds a touch of luxury, as it enhances the sensory experience of using the product.
The Skin oil serves multiple purposes, making it a versatile addition to one's skincare routine. It can be used in the bath or shower, for shaving, and as your daily body moisturizer. Catering to various skincare needs, this versatility adds to the product's luxury appeal as it simplifies and elevates your daily routine.
The combination of these premium ingredients ensures that the oil not only moisturizes but also helps to maintain healthy skin. It's designed to combat dryness and irritation, making it a luxurious choice for those seeking the absolute best for their skin.
It's a product that not only nourishes the skin but also provides
a sensory experience that embodies the essence of luxury skincare.

A Timeless Beauty Regi

men
​Your journey to elegance begins here. Apothe Handmade Luxury invites you to embrace the art of simplicity, to indulge in a skincare routine that not only nourishes your skin but also nourishes your soul. With Apothe, you're not just buying skincare products; you're investing in an experience that elevates your daily rituals to the realm of luxury.
In a world where less is often more, Apothe Handmade Luxury stands as a beacon of elegance in skincare. Their commitment to simplicity, their dedication to quality, and their understanding of the timeless allure of refined routines make them a brand that embodies luxury. As you embark on your journey with Apothe, remember that true elegance often lies in the simplest of choices.
We invite you to explore Apothe's boutique collection of products, where luxury meets simplicity. Indulgence at its finest from their healing Whipped Body Butter and silky smooth Skin Polish to their collection of healthy Artisan Teas. Apothe also carries a luxury line of home products with signature scented candles and room and linen sprays to relax the senses. Share your experience with us on social media using #EleganceWithApothe, and join our community of individuals who understand the power of simplicity in skincare.
Your journey to timeless beauty begins now. Explore Apothe Handmade Luxury today and experience the power of simplicity in skincare. Begin your path to timeless beauty now by indulging in Apothe "Daily" Moisturizer and Skin Oil. Your radiant journey awaits.
Less is More With Apothe
* In partnership with our friends at Apothe LLC* Photo courtesy of Apothe LLC
* These statements have not been evaluated by the Food and Drug Administration. These products are not intended to diagnose, treat, cure or prevent any disease.
* The information available on ewellnessmag.com, including text, graphics, and other materials is for informational purposes only. Reliance on any information in ewellnessmag.com is at the user's own risk. Sponsored product placement may appear in the article. The visitor of this website acknowledges that the information available on or through ewellnessmag.com is not and is not intended to be a substitute for professional medical advice. Copyright © 2023 Brawo Press, Inc. All rights reserved.
---